Subjects
In the 2021/22 academic year, teaching is delivered by staff based in Thornhill Academy. In order to regain students' lost learning. We have a particular focus on English, Maths and Science as our core curriculum and the academic journey is built around that provided at Thornhill Academy.
English
The English department aims to inspire creative and enquiring minds through exposure to a wealth of high-quality literary texts from a variety of cultures. Our vision is to encourage an appreciation of the world through an understanding of how language works, so that all pupils can engage with and realise the diversity of language they are surrounded by in daily life. We aim to cultivate a learning environment where all pupils become confident in their own ability and creativity, appreciating the values of others, whilst feeling motivated to achieve above and beyond expectations.
Our English teachers have a real passion for literature. Great writers help us to make sense of the world around us. Our overall aims are to develop the knowledge and skills required to ensure that pupils can confidently write in a range of different styles, developing passionate speakers, readers and writers who can go on to make valuable contributions to society. There is a strong emphasis on planning as well as recalling prior learning, ensuring that essential knowledge and ideas are retained across both key stages. The department is committed to equal opportunities and believes in the right of every student to succeed, regardless of ethnic background, gender, or ability. We strive to provide cultural, social, moral and spiritual guidance through discussions arising from texts studied.
Our three-year KS3 programme offers an engaging learning journey, focusing on building upon and consolidating knowledge and skills introduced at KS2. Our schema is designed to support our pupils to clearly articulate their thoughts and ideas to their peers as well as in their writing. The curriculum covers a variety of genres, popular literary canon texts, the classics, as well as a vast range of poetry, both contemporary and historic fiction and non-fiction texts.
Common threads run through each unit, providing pupils with opportunities to build on existing knowledge. They will explore challenging concepts throughout each unit such as how and why stories develop and change over time, how different writers are inspired by each other, as well as social issues explored through their writing. They will also be encouraged to evaluate why the world needed to change to support their cultural, social, moral and spiritual development.
As pupils transition into KS4 they will have a solid foundation of knowledge from KS3 which will be expanded upon as they continue on their journey of self-discovery. We believe that KS4 should not focus entirely on skills and knowledge required solely for examinations. It is vital that we continue to enrich their understanding of the world by exploring how writers convey their perspectives to make changes to the world around them, challenging them to do the same as we broaden their ambitions.
Pupils will study thematic units which combine Literature and Language content and skills whilst following the AQA English Language (8700) and English Literature (8702) specifications. Wider reading texts accompany each unit to present increased challenge whilst exploring the relevance of the literature texts they are studying. By the end of their educational journey pupils will have a comprehensive understanding of the power of language, which is a lifelong skill.
In addition to the curriculum, we facilitate a culture of reading for pleasure as all pupils have access to a Library to encourage independent reading, as well as timetabled reading lessons each week for all KS3 pupils.
Our celebrations of National Poetry Day and World Book Day provide pupils with a variety of activities including poetry recitals, sharing of favourite texts, quizzes, competitions and other creative activities. We continue to celebrate the fact that many of our pupils are published authors in their own right.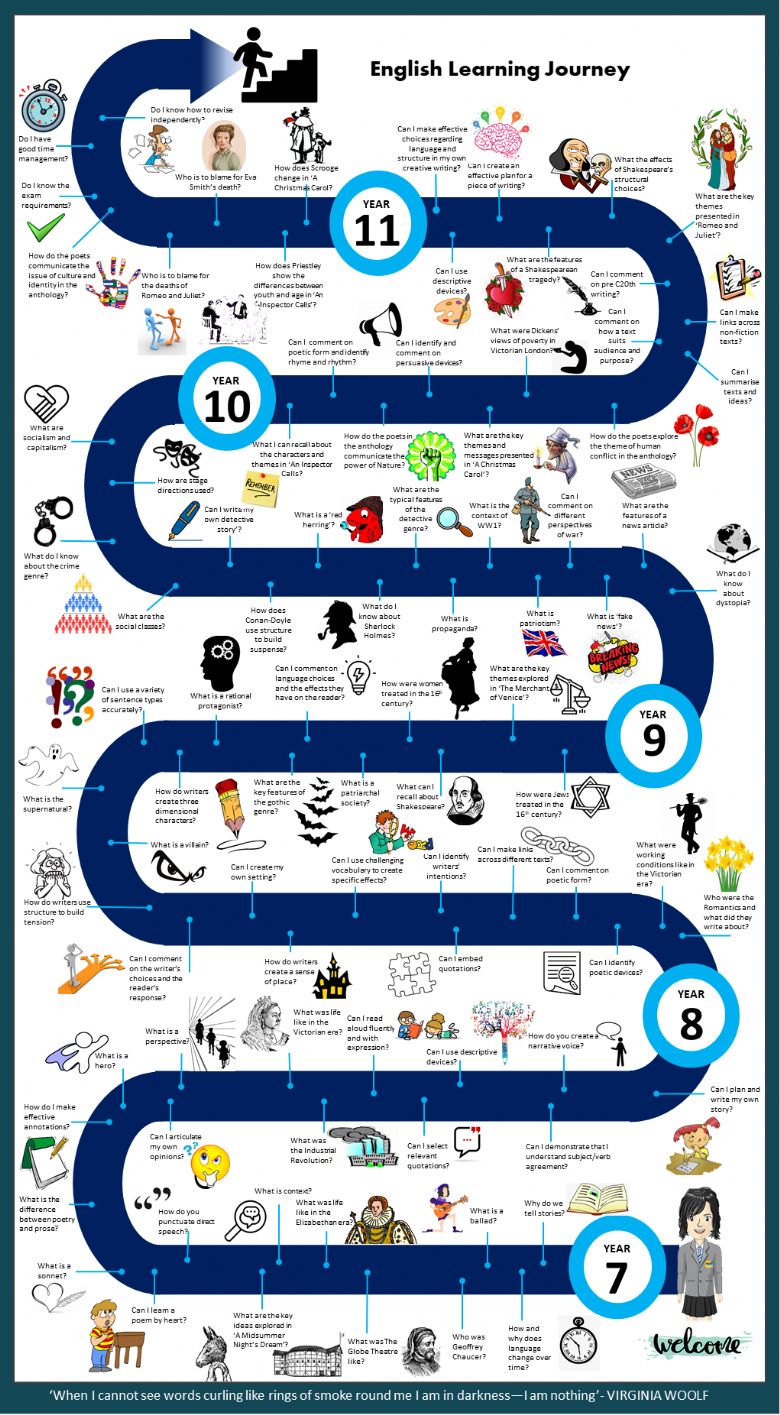 Maths
Mathematics is taught as a specialist subject at Thornhill Academy.
The KS3 curriculum has been designed to consolidate and build upon prior learning from KS2. At KS3 we aim to ensure all students:
Have access to a high-quality curriculum that is both challenging and enjoyable to learn.
Are provided with a variety of mathematical opportunities, which will enable them to make the connections in learning needed to enjoy a greater depth in learning.
Develop the fundamentals of mathematics, including through varied and frequent practice with increasingly complex problems over time, so pupils develop the ability to recall and apply knowledge rapidly and accurately.
Can solve problems by applying their mathematics to a variety of context with increasing sophistication, including breaking down problems into a series of simpler steps and persevering in seeking solutions.
Reason mathematically by following a line of enquiry, identifying relationships and generalisations, and develop an argument, justification, or proof using mathematical language.
Ensure children are confident mathematicians who are not afraid to take risks.
The curriculum across Key Stage 3 and Key Stage 4 follows a learning journey based around the National Curriculum. It is designed and organised into six domains: Algebra, Geometry & Measures, Number, Probability, Ratio & Proportion and Statistics. The content is sequenced as such that pupils can make and develop connections across mathematical ideas to increase their mathematical fluency, reasoning and competence in solving problems.
The expectation is that the majority of pupils will move through the learning pathways at broadly the same pace. Pupils who grasp concepts rapidly will be challenged through being offered rich and sophisticated problems before any acceleration through new content. Those who are not sufficiently fluent with earlier material should consolidate their understanding through additional practice before moving on.
The Key Stage 3 schemes are set up to follow the same subject areas throughout the year to ensure with any movement a pupil will not miss out or repeat any part of the subject. The Key Stage 4 learning pathway consolidates and builds upon the prior learning from Key Stage 3 while following the Foundation or Higher subject-specific content. Currently, the department enters Foundation Tier candidates for the Edexcel 1MA1 GCSE, and Higher Tier candidates for the AQA 8300 GCSE.
Skills and stamina-building will be addressed through the use of retrieval starter activities to ensure 'sticky knowledge' and each scheme is accompanied by homework which is collected on a minimum of once every two weeks, usually online via Mathswatch - an online learning platform which all pupils at Thornhill have access to.
There is a responsive and reflective assessment style approach across the curriculum to ensure pupils are taught to their individual needs.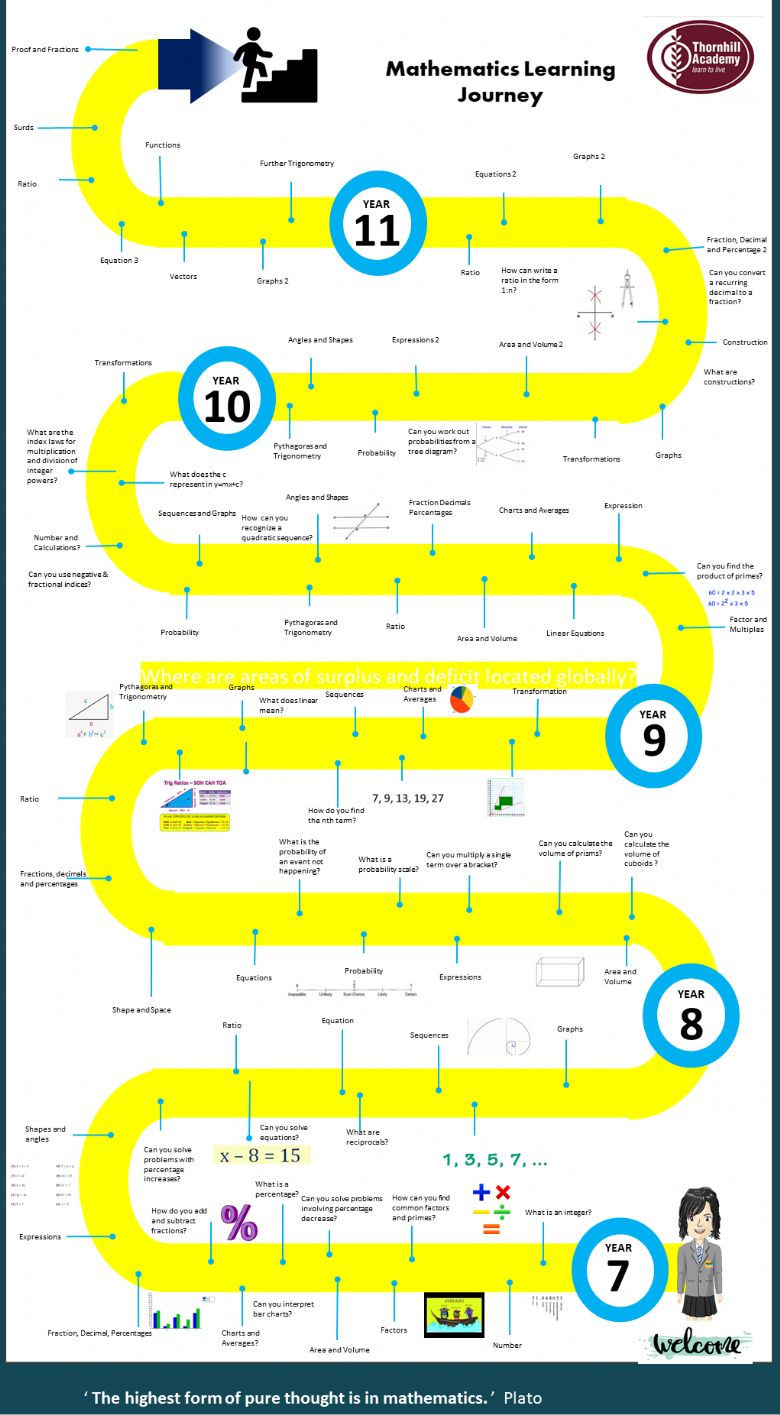 Science
The Science Department believes that our subject is a fundamental part of everyday life and is essential to our understanding of the world. The overarching intention of Science is to provide students with a rewarding and productive learning experience that leaves them with a lasting, positive view of Science and its contribution to society.
The Science Learning Pathway consolidates and builds on prior learning from Key Stage 2. The Key Stage 3 programme of study focuses on developing essential content and skills, introducing and revisiting topics across 3 years to help create engaging lessons and prepare learners for the demands of GCSE Science.
'Big Ideas' interlink topics with Key Stage 3 and 4 programmes of study. This Learning Pathway aims to support the development of transferrable life and employability skills.
This link will take you to a range of resources to support the curriculum- Useful Science Links
Key Stage 3 Science
The Key Stage 3 science curriculum aims to ensure that all pupils:
Develop scientific knowledge and conceptual understanding through the specific disciplines of biology, chemistry and physics
Develop understanding of the nature, processes and methods of science through different types of science enquiries that help them to answer scientific questions about the world around them
Are equipped with the scientific knowledge required to understand the uses and implications of science, today and for future employment.
| Yr7 Units of Work | Yr8 Units of Work | Yr9 Units of Work |
| --- | --- | --- |
| Energy | Waves | Atoms |
| Particles | Nutrition & Digestion | Human Body & Substances |
| Cells | Periodic Table | Matter |
| Forces | Energy Resources | Acid Reactions |
| Elements, Compounds & Mixtures | Respiratory & Circulatory Systems | Genetics |
| Reproduction | Chemical Reactions | Electricity in the Home |
| Electricity | Magnetism | Rates of Reaction |
| Acids & Alkalis | Obtaining Metals | Human Impact on Biodiversity |
| Health & Disease | Light | Bonding |
| Waves | Plants | Forces & Motion |
| Earth & Atmosphere | Energetics | Periodic Table |
| Ecosystem | Space | Cell Biology |
Key Stage 4 Science
The GCSE Science course is based on the Key Stage 4 Programme of Study for Science. Students are given the opportunity to study either Combined Science or Separate Sciences.
The content is split into units relevant to students in their everyday life and the specification allows the opportunity to explore work-related learning in science where appropriate.