CONSILIUM EVOLVE COMMUNITY LEARN TOGETHER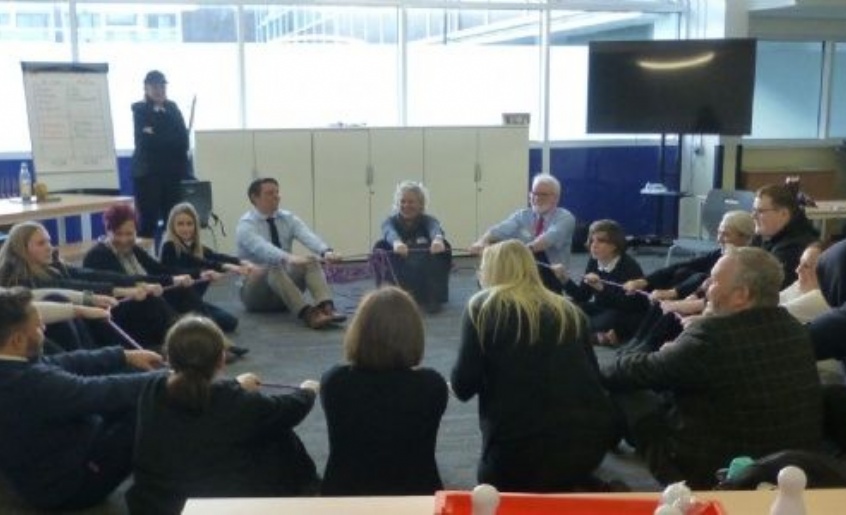 Every term Consilium Evolve is bringing together its community to learn and explore the important issues facing their young people, last term they learned about the effects of mental health and the tools that can be used to enable every child to succeed, while this term they have looked at the importance of sleep as one of the three key features of mental health.
Students, parents, carers, and wider families, including some newborn babies, are coming together as a community to take part one day programme, the first was run by Petros, which delivered prevention and early intervention mental health support, and the second delivered by Kerry Davies, The Sleep Fixer.
During the mental health session, they discussed the structure of the brain and opened up to each other about times when they felt they were in fight or flight mode. Then the students, who experience emotionally based school avoidance, worked with Jo Clarke, founder of Petros, and Di Gammage, Child and Adult Psychotherapist, through creative therapy. Families and teachers learned together about Collaborative and Proactive Solutions (CPS), which is centred on solving the problems that cause behaviour, not merely on modifying behaviour.
Professor Jo Clarke, Managing Director at Petros, said:
"The opportunity to work with children, parents, and staff, all together in the same space, was simply magical! It was an extraordinary day to be a part of. Robert Bell is visionary and his plans for his school should, in my view, be put into practice across the entire education system. I want to thank him for trusting us with his first community day, it was an honour."
While in January, Evolve's community has come together to learn about the importance of sleep, and how it affects us both emotionally and physically. Children can be prone to having poor sleep diets, which impacts on their ability to function well during the day. So, in the run up to the event, staff and students took part in a daily energy tracking process as well as completing a reflective performance journal, to check on their sleep patterns. On the day they worked with The Sleep Fixer to learn about how to sleep better, more often, with a view to not only improving their sleep but in turn their mental health.
Kerry Davies, The Sleep Fixer, said:
"It was such an honour to be a part of the Evolve's initiative prioritising sleep. Sleep is a fundamental basic when it comes to health and wellbeing and is often overlooked. All the staff and students were so engaged, great work!"
Commenting on the session, a parent of an Evolve student said:
"It was a very informative session. Having researched sleep hygiene this has produced more information to help with sleep difficulties with my child."
Robert Bell, Headteacher at Consilium Evolve, part of Consilium Academies, said:
"It has been inspirational and heart-warming to see our community come together, to learn together. Seeing our families in one room, and how nurturing our children are with their siblings was wonderful.
"Generational gaps shouldn't stop us from learning together at the same time. At Evolve we want to explore important issues together, alongside our community. It's a healthier way of learning and shows our children a strong sense of understanding between us all.
"This enables us as adults to show our vulnerability, it allows us to open up to our children. We don't know all the answers, but as a community I want us to learn about these challenges and ways we can overcome them together.
"We want to give our children and their families to tools they need to succeed. Children do well if they can, they are not making a choice not to do well. This is a mindset that our children and their families are learning. Once our thinking is in the right place, it will enable us all to put in the right support in place at the right time for every child in our care."